PEEK is a high polymer composed of repeating units containing one ketone bond and two ether bonds in the main chain structure, and is a special polymer material.PEEK has physical and chemical properties such as high temperature resistance and chemical corrosion resistance. It is a kind of semi-crystalline polymer material with a melting point of 343°C, a softening point of 168°C and a tensile strength of 132-148MPa. It can be used as a high-temperature resistant structural material and electrical insulating material. , which can be composited with glass fiber or carbon fiber to prepare reinforcing materials.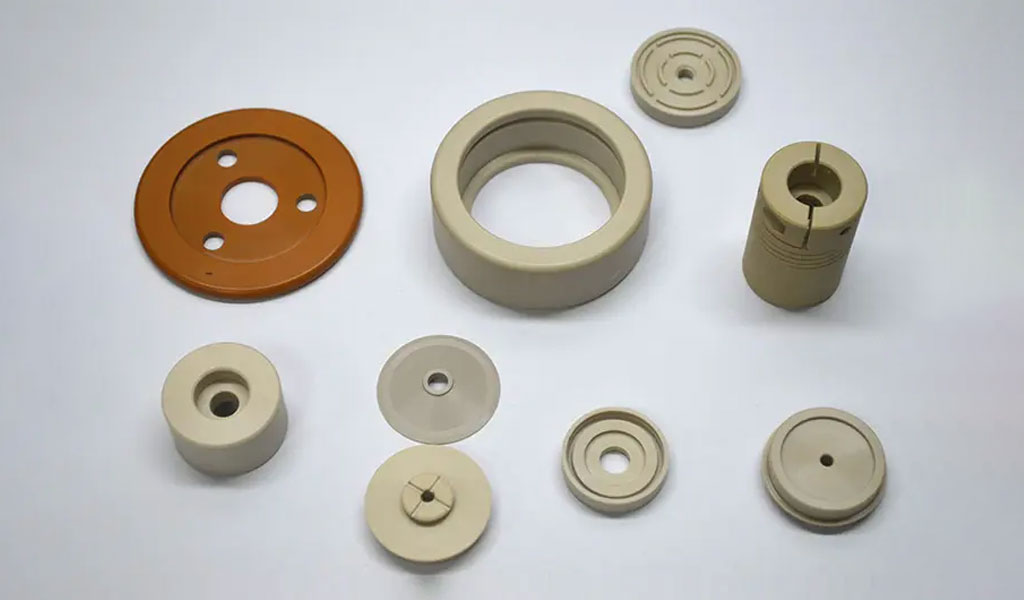 Self-lubricating with low friction coefficient, can realize oil-free lubrication, long-term work in medium such as oil, water, steam, weak acid and alkali.
Easy to process Parts can be directly processed by injection molding process. Post-processing such as turning, milling, drilling, tapping, bonding and ultrasonic welding can be performed.
Low-smoke and non-toxic combustion, the amount of smoke and poisonous gas is very low.Compatible with ultra-high vacuum applications.
High temperature resistance US UL certification Long-term use temperature is 260 ℃, even when the temperature reaches 300 ℃, it can still maintain excellent mechanical function.
Wear resistance PEEK compound and its composite materials have excellent wear resistance in many extremely harsh environments such as high temperature, high load and strong corrosion.High strength has the best mechanical strength among plastics. It also has high rigidity and surface hardness.
Corrosion resistance, insoluble in common solvents, and has good corrosion resistance to various organic and inorganic chemical reagents.
Hydrolysis resistance When soaked in steam with a temperature over 250℃ or in high pressure water, PEEK products can still work continuously for thousands of hours without obvious functional decline.
Custom PEEK Turning Services – OEM China CNC Turning PEEK Parts Manufacturer & Company
---
Pinjin is a professional peek machining company in PEEK turning service, our knowledgeable team and advanced turning machines guarantee our superior service for global customers and institutions. PEEK turning service (as PEEK lathes service) is subtravtive manufacturing process. Our PEEK turning centers complete with part catchers and bar feeders, in order to provide high speed PEEK turning service for our customers.
We offer PEEK turning service for medical, aerospace, automotive, electronic and EDM industries. Our turning lathes secure and rotate selected materials, while a single point cutting tool shapes the materials to produce desired components which controlled by computer program. Secured materials rotate at changing speeds and cutting tools traverse to produced cylindrical shapes with exact tolerance. We provide designing, prototyping, low quantity and high quantity production.
Threaded Holes:UNC & UNF threads from #2 up to 0.5 in.Metric threads M1.2 and above.
Radii:turned outside corners will typically include a 0.005 in. chamfer.Minimum hole size:
Minimum on-axis and axial: 0.04 in. (1mm)
Minimum radial: 0.08 in. (0.5mm), 0.04 in (0.5mm) for PEEK
Grooves:
Minimum OD groove width: 0.047 in. (1.2mm)
Minimum OD groove width for peek:0.019 in (0.5mm)
Maximum OD groove depth: 0.95 in. (24.1mm)—varies with a groove width
PEEK turning centers are perfect for round or cylindrical parts production. PEEK lathes can create these components rapidly, accurately and repeatably.
Although used for parts with certain shape, PEEK turning still provides various operations like drills, boring, threading and knurling.
Pinjin precision PEEK turning tolerance reach to +/-0.0001'' with stable quality, we can provide all kind of precision mechanical parts for your requirement.
Pinjin lathe centers offer the most economical way to reduce material removal amount and improve PEEK turning process.
Precision PEEK turning is our most competitive benefits. Our turning machines will follow strict measurements and eliminate human error waste.
Our PEEK turning centers are flexible for diverse applications with a rage of size capability. Our centers can equip 75-254mm diameter materials for clients requirements.
Our PEEK turning service provides exceptional repeatability by producing unparalleled accuracy PEEK products.
Our PEEK turning centers can offer excellent surface finishes with high dimensional accuracy. In addition, we can provide various finishes process for your special requirement, such as standard machined, smoothed, bead blasted, anodized clear or color, anodized hard-coat, power coated, electropolished, black oxide, chromate conversion coating, brushing.
PEEK Precision CNC Turning Parts And Case Studies
---
Currently, our CNC turning peek parts are exported to America, Canada, Australia, United Kingdom, Germany, France, Sout Africa, and many other countries all over the world. We are ISO9001-2015 registered and also certified by SGS.
Our custom CNC turning peek service provides durable and affordable peek parts that meet your specifications for automotive, medical, aerospace, electronics, food, construction, security, marine, and more industries. Fast to send your inquiry or submit your drawings to get a free quote in the shortest time.Contact us or Email [email protected] to see how our people, equipment and tooling can bring the best quality for the best price for your CNC turning peek project.
How PEEK Turning Work
---
PEEK turning is a precision machining process in which mental stock is held in spindle chuck and rotated while cutting tools remove material by spinning workpiece contact. Computer instructions control machinery movement to create extreme precision and repeatable PEEK parts. PEEK turning is different from CNC milling, in which cutters rotate and direct to stationary work-piece form multiple angles. While PEEK turning rotating work-piece in a chuck, it's generally to create round or tubular shapes, and achieving far more accurate rounded surfaces than PEEK milling or other machining process.
PEEK turning machines hold material blocks, which is removed to create designed shape by rotated mechanism. PEEK lathe machine tooling is mounted to a turret, this component is programmed with certain movement and removes material from raw material block to desired shape. PEEK turning can be used for rapid manufacture of either prototypes or end-use PEEK parts. CAD file will transfer into a PEEK-readable program G-code in PEEK turning centers, the stock materials is rotating on metal rod, while PEEK turning software control cutting tools remove materials to dictated shape. PEEK turning is typically used to manufacture cylindrical-type forms in straightforward process. PEEK turning can be used for rapid manufacture of either prototypes or end-use PEEK parts. PEEK parts can be left as- machined, or for further bead blasted and finished smooth.
PEEK Turning Operations – Types of PEEK Turning
---
There are many types of PEEK turning operations for PEEK lathe services can be performed on a live tooling lathe in PEEK turning factory, including Hard turning, Parting, Facing, Boring, Reaming, Taper turning, Drilling, Knurling, Threading, Grooving, etc., comes in varying tools, cost and set-up time.
PEEK Tapered turning: produce a cylindrical part of which diameter decrease from one end to another.
PEEK Hard turning: suited for materials with a Rockwell C hardness greater than 45, typically performed after heat treated.
PEEK Spherical generation: create a spherical finished surface, turning around fixed rotary axis.
PEEK Facing: a turning operation in which the workpiece is machined to its center.
PEEK Parting: create deep grooves that remove a completed or part-complete component from its parent stock.
PEEK Grooving: similar to parting, but only cut to a specific depth from outside or inside of workpiece.
PEEK Drilling: remove materials to drill holes from the inside of a workpiece with drill bits held stationary in the tail stock or tool turret of the lathe.Boring: enlarge or smooth an existing hole.
PEEK Knurling: cut serrated pattern onto the surface of workpiece with knurling tool, to change or enhance visual effect or hand grip.
PEEK Reaming: remove a small volume of materials from a drilled hole, for highly accurate diameters.
PEEK Threading: turn standard and non-standard screw threads, generally means single-point threading.
PEEK Polygonal turning: non-circular forms machining operation without interrupting the rotation of the raw material.