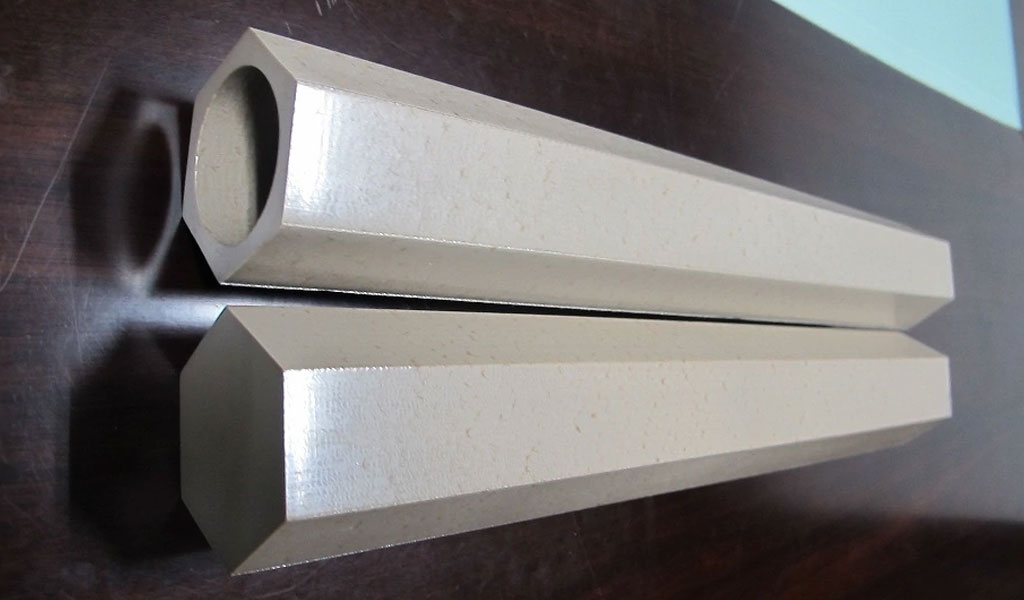 What Is PEEK Extrusion – The Define Of PEEK Extrusion
---
PEEK is polyether ether ketone resin, which is a kind of special high temperature resistant thermoplastic engineering plastic, which was developed in the early 1980s. PEEK has the characteristics of high temperature resistance, radiation resistance, chemical resistance, abrasion resistance, flame retardant, etc., and now it has become a key raw material in many high-tech fields. Although PEEK is a super heat-resistant resin, it has the characteristics of high temperature (350~-400C), good fluidity and high thermal decomposition temperature (560°C), so it can be processed by extrusion molding.Polyetheretherketone (PEEK) can be extruded through continuous extrusion to extrude PEEK rod, PEEK film, PEEK sheet, PEEK pipe and PEEK monofilament. PEEK profiles can then be used to process into PEEK product parts required by various industries.
Polyetheretherketone (PEEK) is a stretched film with low crystallinity, and is generally used in combination with carbon fiber, glass fiber, melamine fiber and other materials. Uncomplexed polyetheretherketone (PEEK) films can be stretched and heat treated to increase strength and heat resistance. The stretched and heat-treated polyetheretherketone (PEEK) film has a melting point that is 80°C higher than that of PET film.
Custom PEEK Extrusion Profile Services – PEEK Extrusion Manufacturer
---
Are you looking to manufacture custom extruded parts with custom shapes? Let Pinjin handle the sourcing process for you. Our available peek extrusion processes are the best you'll find. We combine advanced machines with a professional engineering team to deliver top-notch custom manufacturing services.Strong, lightweight, and corrosion-resistant extruded products can be obtained through a fast and efficient peek extrusion process.
From quality to service, strict requirements and high standards help us gain a good reputation among worldwide clients. Our peek extrusion profiles are commonly used in the consumer electronics and construction industry, such as frames of doors and windows, also serve for automotive, trains, ships, medical devices, etc. In some cases, extruding peek is a more cost-effective method than other fabrication processes. Cooperating with suppliers to assist the project can reduce the cost of high-volume production of peek parts.The peek extrusion process is essential for producing parts with custom cross-sectional profiles.
The process is quite interesting, and you can get various shapes of products that you can treat, fabricate, and finish to specification. Pinjin offers the best peek extrusion services for the desired result.We can also provide several surface finishing options for your final products. Regardless of your choice, you can be sure we'll deliver. We also ensure constant testing at each manufacturing stage to make sure you get only the best. Upload your design file today, and get an instant quote.
The Technical Experience Of PEEK Extrusion
---
Raw material formulation design and compound modification of PEEK and PI special engineering plastics;
Injection molding and machining of PEEK and PI special engineering plastics;
According to the physical mapping of plastic products, drawing and three-dimensional manufacturing;
Design and manufacture of injection moulds for special engineering plastic products;
Cooperate with customers in the application development and production of new products of special engineering plastics;
There are nearly 1,000 injection molding molds in various industries such as automobiles, electronic semiconductors, textile printing and dyeing machinery, packaging machinery, medical equipment, petrochemical machinery, and nuclear industry;
Continuous extrusion production of PEEK plates, rods, tubes and sheets;
The Production Advantage Of PEEK Extrusion
---
Years of PEEK application R&D and production experience, as well as the R&D and production capacity of the complete industrial chain of PEEK raw material resin polymerization and modified granulation, injection molding machine processing of finished parts and continuous extrusion of sheet and rod profiles;
There are many kinds of products and various specifications, and there is inventory all year round;
Unique production and testing equipment: more than ten extrusion production lines, four-axis and five-axis CNC processing points, three-coordinate detectors, and X-ray foreign body detectors.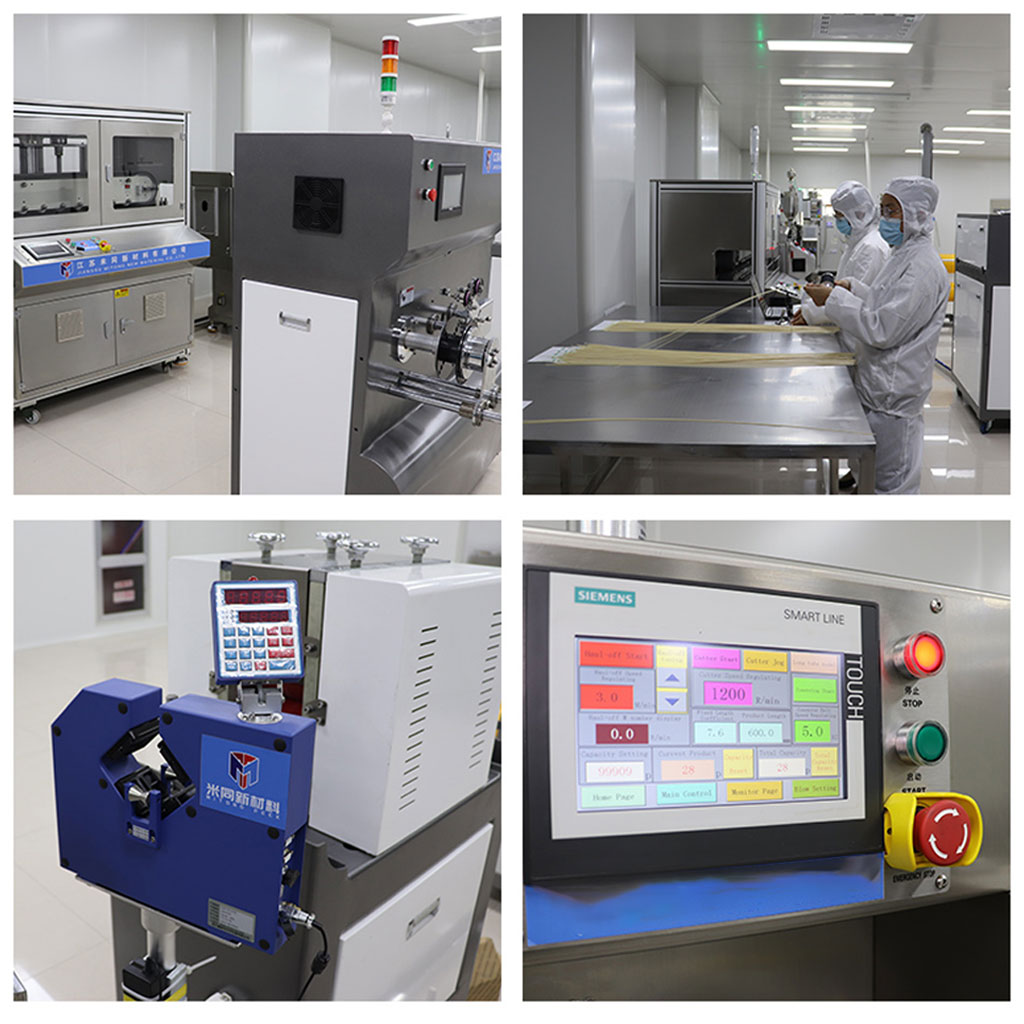 The Technical Advantages Of PEEK Extrusion
---
Years of PEEK application R&D and production experience;
More than ten special production lines for continuous extrusion of high-performance special engineering plastic profiles;
Continuous technological innovation has accumulated a number of unique patented technologies;
A professional and efficient R&D technical team continuously conducts the application research and development of PEEK.
The Quality Advantage Of PEEK Extrusion
---
Strict inspection: unqualified raw materials will not be put into production, unqualified semi-finished products will not be reordered, and unqualified finished products will not leave the factory;
Professional and efficient R&D technical team: Provide technical support for customers and comprehensively protect the interests of customers.
Perfect after-sales service system: product quality, product performance and customer service later.
The General Flow Or Steps Of The Peek Extrusion Process
---
Machine a hard steel mold and load it into the extrusion press
Prepare a solid peek billet and preheat it to specified temperatures
Transfer the preheated peek to the extrusion press
Push the billet into the container of the extrusion press until fills in it
Apply continual pressure to force peek material through the openings in the die
The extrusion emerges from the opening of the mold and form the desired shape
Shear the complete extrusion using a hot saw
Cool the extrusions, the profile will retain its shape until it reaches room temperature
Move the peek extrusions to a stretcher and stretch them into alignment
Move the full-length extrusions to the saw table and cut them to a specified length
Common Peek Extrusion Shapes
---
Solid: no gaps or openings, such as rods, beams, or angles
Semi-hollow: with partially enclosed voids or narrow gaps
Hollow: with one or more voids, such as square or rectangular tubes